(August 17, 2021) – According to new data from the Minneapolis Area REALTORS® and the Saint Paul Area Association of REALTORS®, buyer activity in the month of July more closely resembled a typical, pre-pandemic summer than the frenzied buying spree seen over the last year or so. Demand as measured by pending sales was down 11.2 percent from July 2020 but was flat compared to July 2019.
Meanwhile, seller activity in the Twin Cities Metro increased for a fourth consecutive month. The number of homes listed on the market during the month was up 0.7 percent from last year, partly a result of the pullback in seller activity last spring and summer.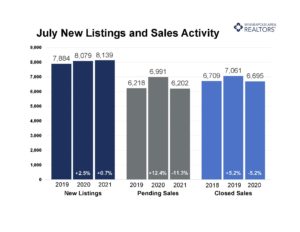 "Buyer activity was remarkably strong around this time last year," said Tracy Baglio, President of the Saint Paul Area Association of REALTORS®. "It's important to put softening sales figures in context. We're returning to a more typical market in line with the past five years. Compared to the frenzied pace of Summer 2020, that appears to be a slowdown, but it's really just 'normalization.'" Overall, sellers are still firmly in control of this market; that hasn't changed. With just 1.3 months supply of inventory, the metro remains a sellers' market. Historically, six months of supply is considered a balanced market.
Another hallmark of supply-constrained markets is fast market times. The median number of days a property remained on market declined 58.8 percent to seven days. In other words, half of the pending sales in July had accepted offers within a week of being listed. On the other hand, home prices were up 11.9 percent from last July to arrive at $350,000 for the month. That's even with June, even though prices tend to reach their seasonal peak in June.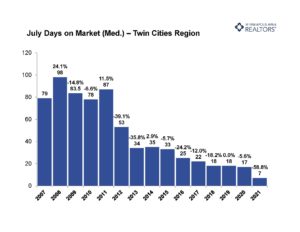 "With offers still coming in at an average of 3.6 percent over original asking price, more people are understanding the strength of this market," according to Todd Walker, President of Minneapolis Area REALTORS®. "Any supply increase can readily be absorbed by the record demand in the marketplace, and any rebalancing or adjustment will take some time to play out."
Activity varies by area, price point and property type. Sales of single-family homes were up 3.4 percent in Minneapolis and level in St. Paul, suggesting demand remained strong in the core cities. Condos were the only property type to grow in year over year sales. Across the 16-county Twin Cities region condo sales rose 8.6 percent. Sales of previously owned homes fell 2.5 percent while new construction dropped 23.9 percent.
July 2021 by the numbers compared to a year ago
Sellers listed 8,139 properties on the market, a 0.7 percent increase from last July
Buyers signed 6,202 purchase agreements, down 11.3 percent (6,695 closed sales, down 5.2 percent)
Inventory levels fell 25.3 percent to 7,590 units
Month's Supply of Inventory was down 35.0 percent to 1.3 month (4-6 months is balanced)
The Median Sales Price rose 11.9 percent to $350,000
Days on Market decreased 53.7 percent to 19 days, on average (median of 7 days, down 58.8 percent)
Changes in Sales activity varied by market segment

Single family sales were down 5.5 percent; condo sales rose 8.6 percent; townhome sales decreased 5.3 percent
Traditional sales fell 4.2 percent; foreclosure sales were down 54.5 percent; short sales fell 42.9 percent
Previously owned sales were down 2.5 percent; new construction sales dropped 23.9 percent