September 18, 2019
With two-thirds of the year in the books, we're getting a clearer picture of where the housing market stands. The latest numbers for Twin Cities residential real estate show stability along with signs of deceleration. The median sales price continued to rise, landing at $286,800 for the month. Pending sales—a measure of signed contracts and future demand—rose 3.2 percent but are down slightly for the year so far. New listings slipped 2.0 percent, thwarting some buyers' hopes of taking advantage of historically low rates. Closed sales were down 0.9 percent for the month and are down 1.4 percent for the year. One sign of market shift is days on market, which rose 2.5 percent year-over-year. Market times remain swift, but that's the fourth year-over-year increase this year. Another sign of a changing market is the ratio of sold to list price. Sellers have been accepting a slightly lower share of their list price compared to the year prior for seven of the last eight months. This, along with other indicators, suggests the market is rebalancing. The landscape seems to be improving for buyers, even though sellers still have strong pricing power, favorable negotiating leverage and quick market times.
The number of active listings for sale has been rising this year. Even so, the market remains tight—particularly for first-time buyers and downsizers competing in the sub-$300,000 segment where multiple offers and homes selling for over list price are commonplace. With just 2.5 months of supply, the Twin Cities is still significantly undersupplied. The move-up and upper-bracket segments are less competitive and better supplied. Given some of the recent economic uncertainty, it's worth noting that the Twin Cities market is well-positioned to withstand an economic downturn.
August 2019 by the Numbers (compared to a year ago)
Sellers listed 7,678 properties on the market, a 2.0 percent decrease from last August
Buyers closed on 6,646 homes, a 0.9 percent decrease
Inventory levels decreased 5.5 percent from last August to 12,238 units
Months Supply of Inventory was down 3.8 percent to 2.5 months
The Median Sales Price rose 7.0 percent to $286,800, a record high for August
Cumulative Days on Market rose 2.5 percent to 41 days, on average (median of 21)
Changes in Sales activity varied by market segment
Single family sales rose 1.4 percent; condo sales decreased 6.2 percent; townhome sales fell 7.8 percent
Traditional sales increased 0.1 percent; foreclosure sales dropped 40.9 percent; short sales fell 45.5 percent
Previously owned sales were down 0.1 percent; new construction sales declined 5.0 percent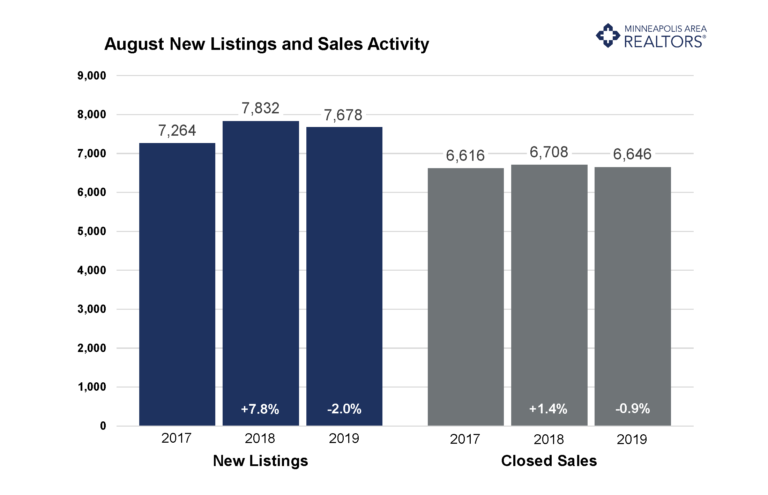 Quotables
"Some think the fall market isn't for them, but tight conditions and favorable rates suggest momentum moving into 2020," said Todd Urbanski, President of Minneapolis Area REALTORS®. "We're at a moment when sellers are enjoying their position while buyers are taking advantage of lower than expected interest rates and more options."
"Most markets remain stable across the metro," said Linda Rogers, President-Elect of Minneapolis Area REALTORS®. "While there is a good amount of local variation, we just don't see that many signs for concern."
From The Skinny Blog.