Market times fastest in 14 years amid record home prices in the Twin Cities
(May 17, 2021) – According to new data from the Minneapolis Area REALTORS® and the Saint Paul Area Association of REALTORS®, seller activity in April was up 21.7 percent compared to last year, when new listings dipped partly due to COVID-19. The number of homes that were put on the market in April is comparable to pre-pandemic levels in 2019 and 2018.
The median price of a home in the 16-county Twin Cities metro rose to $337,000, a 10.5 percent increase from last April and a new record high for the region. Even so, half of homes go under contract within 8 days of listing, the fastest time in at least 14 years. This is a clear indication that the metro is still in need of a greater housing supply to keep up with rising demand.
"It's promising to see improvements in housing supply, but it's clear that we aren't out of the woods just yet," said Todd Walker, President of Minneapolis Area REALTORS®. "In time, more potential sellers will be encouraged to list, enticed by rising prices and more inventory. In the meantime, developers need incentives to expand new inventory, particularly in affordable price ranges."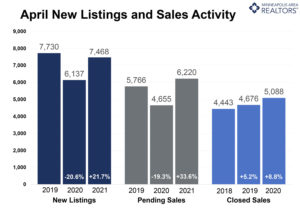 Although supply rebounded to that of pre-pandemic levels in April, the increase in demand was even greater. Pending sales are up 34.0 percent from April of last year and exceed 2019 numbers by 8.2 percent. With 5,619 homes for sale, the Twin Cities currently has 1.0 month's supply of inventory. Typically, 4-6 months is considered a balanced market.
"Buyers still benefit from record low mortgage rates at around 3.0 percent," according to Tracy Baglio, President of the Saint Paul Area Association of REALTORS®. "Although a limited supply is driving prices higher, low rates are a strong incentive to offer a competitive bid for a home."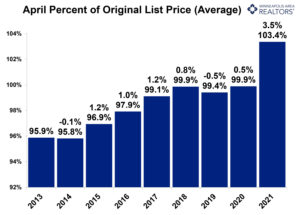 Activity varies by area, price point and property type. Sales of single-family homes were up 32.0 percent in Minneapolis and 14.8 percent in St. Paul, suggesting demand remains strong in the core cities. Across the 16-county Twin Cities region condo sales rose 50.6 percent, outpacing single-family and townhomes. Sales on previously owned homes rose 10.3 percent while new construction rose 2.0 percent. Luxury property sales ($1M+) are up 180.6 percent from last April, 90.6 percent from April 2019.
April 2021 by the numbers compared to a year ago
Sellers listed 7,468 properties on the market, a 21.7 percent increase from last April
Buyers signed 6,220 purchase agreements, up 33.6 percent (5,088 closed sales, up 8.8 percent)
Inventory levels fell 45.8 percent to 5,619 units
Month's Supply of Inventory was down 52.4 percent to 1.0 month (4-6 months is balanced)
The Median Sales Price rose 10.5 percent to $337,000
Days on Market decreased 34.0 percent to 31 days, on average (median of 8 days, down 52.9 percent)
Changes in Sales activity varied by market segment

Single family sales were up 3.6 percent; condo sales rose 50.6 percent; townhome sales increased 17.0 percent
Traditional sales rose 10.1 percent; foreclosure sales were down 44.1 percent; short sales fell 69.2 percent
Previously owned sales were up 10.3 percent; new construction sales climbed 2.0 percent