The latest numbers for Twin Cities residential real estate show a stable market with some ongoing signs of transition. Prices are still rising, supply is still tight, and demand has recovered even while market times have lengthened. Even though more buyers are closing on homes, the urgency has subsided somewhat. Days on market rose 2.4 percent from last September, marking the fifth year-over-year increase in the last seven months. Market times remain swift despite modest increases. Sales rose 3.4 percent and the median sales price increased 6.6 percent to $279,250. Pending sales—a measure of signed contracts and future demand—rose 2.9 percent. Both pending and closed sales are down slightly for the year so far, but that may change. New listings were up 2.5 percent, helping some buyers take advantage of historically low rates. Sellers have been accepting a slightly lower share of their list price compared to the year prior for seven of the last eight months—with September bucking that trend. This, along with other indicators, suggests the market is rebalancing in a way that could benefit buyers.
The number of active listings for sale is up over the last 12 months and for most of 2019. Even so, the market remains tight—particularly for first-time buyers and downsizers competing in the under $300,000 segment where multiple offers and homes selling for over list price remain commonplace. Despite the demand, builders struggle to replenish inventory in that undersupplied segment due to high land and material costs combined with a significant labor shortage and tricky regulations. The shortage of affordable homes has led to an increase in remodeling as people are staying in their homes longer. It's challenging to find comparable home at a similar payment in the desired location. With just 2.5 months of supply, the Twin Cities is still significantly undersupplied.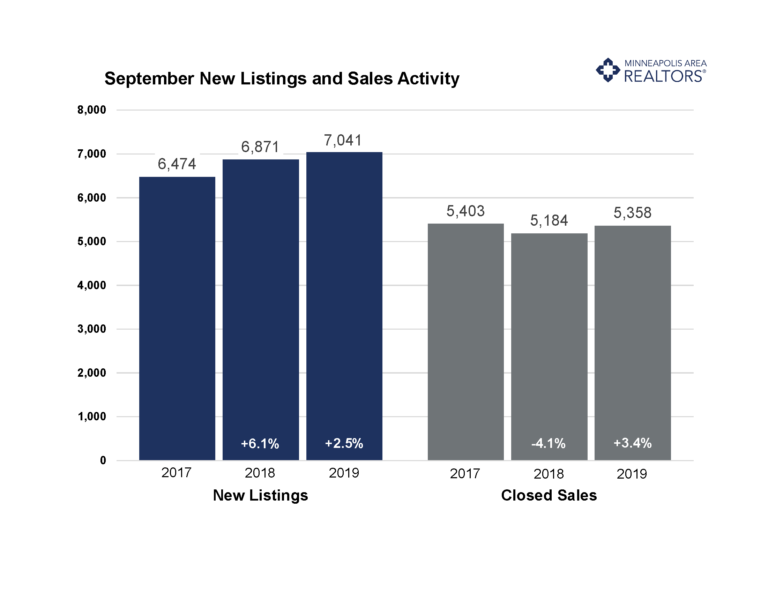 September 2019 by the Numbers (compared to a year ago)
Sellers listed 7,041 properties on the market, a 2.5 percent increase from last September
Buyers closed on 5,358 homes, a 3.4 percent increase
Inventory levels decreased 5.6 percent from last September to 12,478 units
Months Supply of Inventory was down 7.4 percent to 5 months
The Median Sales Price rose 6.6 percent to $279,250
Cumulative Days on Market rose 2.4 percent to 43 days, on average (median of 22)
Changes in Sales activity varied by market segment
Single family sales rose 5.5 percent; condo sales increased 1.4 percent; townhome sales fell 0.5 percent
Traditional sales increased 4.8 percent; foreclosure sales dropped 21.1 percent; short sales fell 55.6 percent
Previously owned sales were up 4.4 percent; new construction sales climbed 2.6 percent
Quotables
"Attractive interest rates have unleashed some of the pent-up demand from earlier this year," said Todd Urbanski, President of Minneapolis Area REALTORS®. "But each price point, product type and area is unique."
"Buyers are still very much motivated despite some challenges," said Linda Rogers, President-Elect of Minneapolis Area REALTORS®. "It really shows the resilience of our region and the value of homeownership."
From The Skinny Blog.