December 18, 2019
The Twin Cities real estate market showed a mostly positive but slightly mixed bag of results for November. New listings were up 0.1 percent year-to-date but down slightly in November. Helping to offset that decline was a 25.0 percent gain in newly built homes from last November. That's because a builder doesn't have to buy a home after selling one. Despite a sellers' market and depending on price point, sellers still face the challenge of securing the next property while listing their current home.
Closed sales were also down slightly in November, but year-to-date closings are almost even with 2018. Sales have risen for the previous four consecutive months. Additionally, pending sales—a signed contract indicating a forthcoming closing—have now risen for five consecutive months, including November. This points to solid demand heading into the new year. Despite tight inventory, surprisingly low borrowing rates are helping to support this demand.
The number of homes for sale declined overall, but most price ranges have shown some growth this year. Over the last 12 months, housing inventory levels have increased for homes priced between $200K-$300K, $300K-$500K and over $500K but fell for homes under $200K. That first-time buyer segment still hasn't seen supply growth.
The median home price in the Twin Cities has risen for 93 months or nearly 8 years, reaching new record highs every year since 2016. This isn't the case for every market segment or area. The supply-demand imbalance pushes prices higher along with a changing mix of homes selling. There's been growth in luxury activity and in square footage.
Market times remain brisk and near record lows, but there were a few monthly increases in 2019. Homes priced under $250K sold in a median of 25 days, while that figure was 91 days for homes over $1M.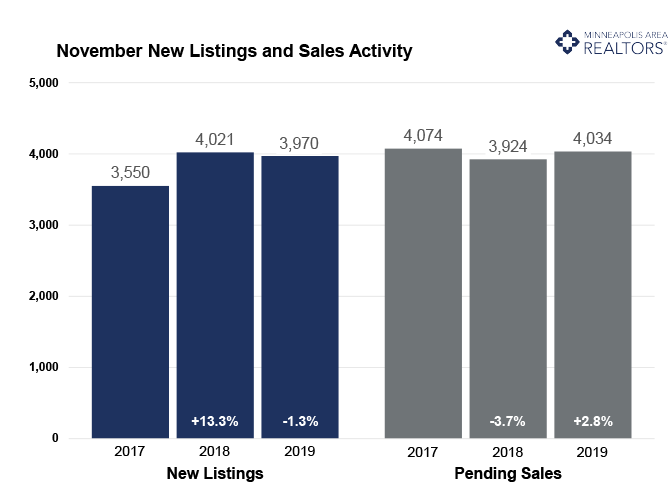 November 2019 by the Numbers (compared to a year ago)
• Sellers listed 3,970 properties on the market, a 1.3 percent decrease from last November
• Buyers closed on 4,672 homes, a 0.8 percent decrease
• Inventory levels decreased 9.2 percent from last November to 10,011 units
• Months Supply of Inventory was down 9.1 percent to 2.0 months
• The Median Sales Price rose 5.6 percent to $279,900
• Cumulative Days on Market declined 1.9 percent to 51 days, on average (median of 29)
• Changes in Sales activity varied by market segment
o Single family sales rose 2.1 percent; condo sales decreased 10.7 percent; townhome sales fell 4.9 percent
o Traditional sales increased 0.7 percent; foreclosure sales dropped 34.7 percent; short sales were flat
o Previously owned sales were flat; new construction sales climbed 5.3 percent
Quotables
"We're on solid footing heading into year-end," said Todd Urbanski, President of Minneapolis Area REALTORS®. "More inventory would be nice, but rates are fantastic, the economy is still growing and consumers are confident."
"National news headlines have little to do with our local market," said Linda Rogers, President-Elect of Minneapolis Area REALTORS®. "Our state and local economies are hardy and diversified, good news for home buyers."
From The Skinny Blog.