November 19, 2019
The Twin Cities real estate market started the fourth quarter of 2019 on a strong note with buyer and seller activity rising in October compared to 2018. Buoyed by historically low interest rates, the number of new listings and pending sales rose last month and the median price of a home also increased.
New listings increased by 3.8 percent last month to nearly 6,300 properties on the market. Pending home sales increased 4.9 percent in October, continuing their steady rise since mortgage rates dipped below 4.0 percent in June. The increase also puts the number of pending sales in positive territory for the year. Continuing the market's upward trend, the median price of a home in the Twin Cities rose to $280,000 in October, a 5.7 percent increase over last year.
October reversed a trend of rising days on market and continued September's reversal of sellers accepting a slightly lower share of their list price compared to last year. With increased sales activity, quicker market times and sellers yielding strong offers, it's no wonder more sellers decided to list. There are still some signs that the market is rebalancing, but buyers awaiting spooky news could see their patience tested based on October numbers.
While inventory has grown this year, supply remains tight for first-time buyers and downsizing households competing for homes under $350,000. At this price point, multiple offers and homes selling for over list price in record time is still common. Builders struggle to replenish inventory due to high costs, a labor shortage and regulatory constraints. The shortage of affordable homes has prompted many owners to stay put. With 2.3 months of supply, the Twin Cities market is still significantly undersupplied.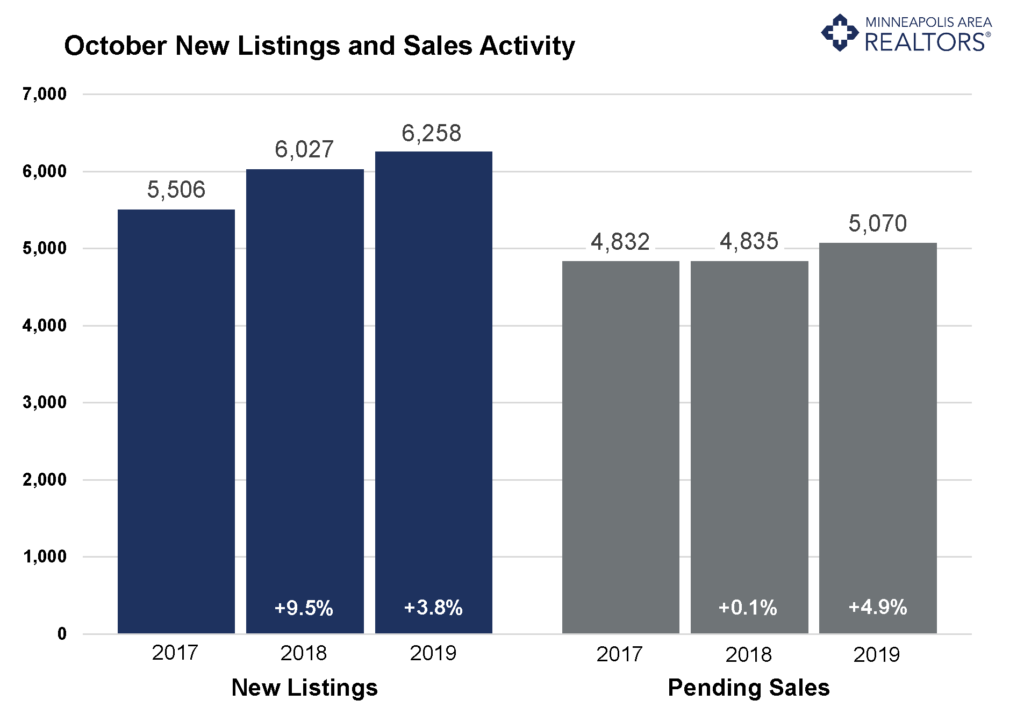 October 2019 by the Numbers (compared to a year ago)
Sellers listed 6,258 properties on the market, a 3.8 percent increase from last October
Buyers closed on 5,391 homes, a 1.3 percent increase
Inventory levels decreased 5.8 percent from last October to 11,607 units
Months Supply of Inventory was down 8.0 percent to 3 months
The Median Sales Price rose 5.7 percent to $280,000
Cumulative Days on Market declined 4.2 percent to 46 days, on average (median of 25)
Changes in Sales activity varied by market segment
Single family sales rose 5.5 percent; condo sales increased 1.4 percent; townhome sales fell 0.5 percent
Traditional sales increased 4.8 percent; foreclosure sales dropped 21.1 percent; short sales fell 55.6 percent
Previously owned sales were up 4.4 percent; new construction sales climbed 2.6 percent
Quotables
"Interest rates are boosting buyer confidence," said Todd Urbanski, President of Minneapolis Area REALTORS®. "Consumers may also be realizing that some of their fears around the market and economy could be overstated."
"The latest figures show our key metrics returning to growth," said Linda Rogers, President-Elect of Minneapolis Area REALTORS®. "We expect Minnesota and the Midwest to fare well should that change."
From The Skinny Blog.