Supply is down during the worst inventory shortage in decades
Median Sales Price reaches a record $353,000
Median days on market is up marginally compared to the frenzy of 2021
(April 15, 2022) – According to new data from Minneapolis Area REALTORS® and the Saint Paul Area Association of REALTORS®, the Twin Cities metro area set a new record median sales price of $353,000, a 7.5 percent increase from March 2021. Even though that's the first time the metro-wide median price exceeded $350,000, the rate of increase is 30.0 percent less than it was a year ago. The ongoing inventory shortage is mostly to blame, although the 12.0 percent decline in housing inventory this March was far less than the 43.0 percent decline last March.
LISTINGS & SALES
Last month sellers listed 6,416 homes on the market, 4.8 percent fewer than March 2021, but 4.2 percent greater than 2019. Some aging empty nesters are staying put and aging in place while others have chosen to remodel or expand their current home instead of listing it. Many homeowners are "married" to their interest rates and are reluctant to give up their monthly payments given rising rates. Buyers signed 9.2 percent fewer purchase agreements than March of last year and closed on 10.4 percent fewer homes. The declines partly reflect the unique strength of the 2021 market but also possibly a reaction to increased mortgage rates.
The monthly payment on a $350,000 home with 10.0% down increases by $187 per month when rates move from 4.0 to 5.0 percent. "Some buyers are trying to get ahead of further rate increases," said Denise Mazone, President of Minneapolis Area REALTORS®. "But the truth is that equity gains over time are likely to outpace the slightly higher payments." Listings spent 10.3 percent fewer days on market than last March on average, after a 36.1 percent decline the year prior. But the median days on market showed a year-over-year increase for only the third time since September 2019. This could be a sign of a more balanced market. Yet sellers accepted offers 2.7 percent higher than their list price, on average.
HOME PRICES & INVENTORY
Home price are expected to continue rising given a chronically undersupplied market with strong demand, but perhaps at a lesser rate. The median price rose 7.5 percent to $353,000; the average price rose 7.0 percent to $409,754—both record highs. On average, buyers are spending about $200 per square foot. The Twin Cities presently has about four week's supply of inventory (0.9 months), while a balanced market has roughly four to six months' supply. But over a decade of underbuilding has meant steep competition for most listings. That coincides with a huge Millennial generation aging into prime homeownership years, not to mention the desire for more space for working and learning from home. Even though inventory levels were down, there are signs that supply is beginning to stabilize. "While inventory levels remain low, there are listings that come on market and go under contract quickly that don't always show up in the month-end inventory count," according to Mark Mason, President of the Saint Paul Area Association of REALTORS®.
LOCATION & PROPERTY TYPE
Market activity varies by area, price point and property type. New home sales rose 1.4 percent compared to a 10.5 percent dip for previously owned homes. Single family sales fell 9.3 percent while condo sales were down 5.3 percent. Sales in Minneapolis declined 8.8 percent while Saint Paul sales were down 18.2 percent. Hastings, Hugo and Lino Lakes saw the greatest increase in closed sales while Prior Lake, Richfield and Minnetonka saw sales fall by 35.0 percent or more.
MARCH 2022 BY THE NUMBERS (COMPARED TO A YEAR AGO)
Sellers listed 6,416 properties on the market, a 4.8 percent decrease from last March
Buyers signed 5,252 purchase agreements, down 9.2 percent (3,934 closed sales, down 10.4 percent)
Inventory levels fell 12.1 percent to 5,004 units
Month's Supply of Inventory was down 10.0 percent to 0.9 months (4-6 months is balanced)
The Median Sales Price rose 7.5 percent to $353,000
Days on Market fell 10.3 percent to 35 days, on average (median of 12 days, up 9.1 percent from March 2021)
Changes in Sales activity varied by market segment

Single family sales decreased 9.3 percent; Condo sales fell 5.3 percent & townhouse sales declined 10.3 percent
Traditional sales were down 9.2 percent; foreclosure sales fell 6.9 percent; short sales were up 28.6 percent (from 7 to 9)
Previously owned sales dropped 10.5 percent; new construction sales rose 1.4 percent
MARCH 2022 HOUSING CHARTS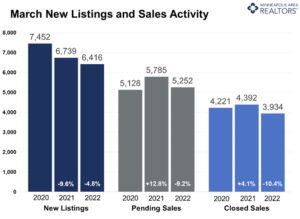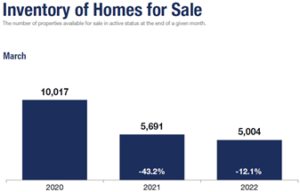 From The Skinny Blog.