February 22, 2020
Latest housing report also shows falling inventory and rising prices
According to the latest housing report from the Minneapolis Area REALTORS® and the Saint Paul Association of REALTORS®, Twin Cities residential real estate started 2020 on solid but still uneven footing. Buyers were eager to ignite the spring market early, spurred by incredibly low mortgage rates and favorable weather, especially compared to last year. Tempering the market are falling inventory and rising prices.
"Buyers were again spoiled by rates that no one expected would be this low," said Linda Rogers, President of Minneapolis Area REALTORS®. "That's fueled more sales activity but we're still missing the inventory piece."
Sellers listed fewer homes for sale while buyers signed more purchase agreements and closed more deals. As a result, the number of homes for sale was almost 15 percent lower than last January. The supply squeeze wasn't felt evenly across price points, though. While inventory of homes priced below $250,000 fell, the number of listings priced between $250,000 and $500,000 as well as $500,000 to $1,000,000 increased last month.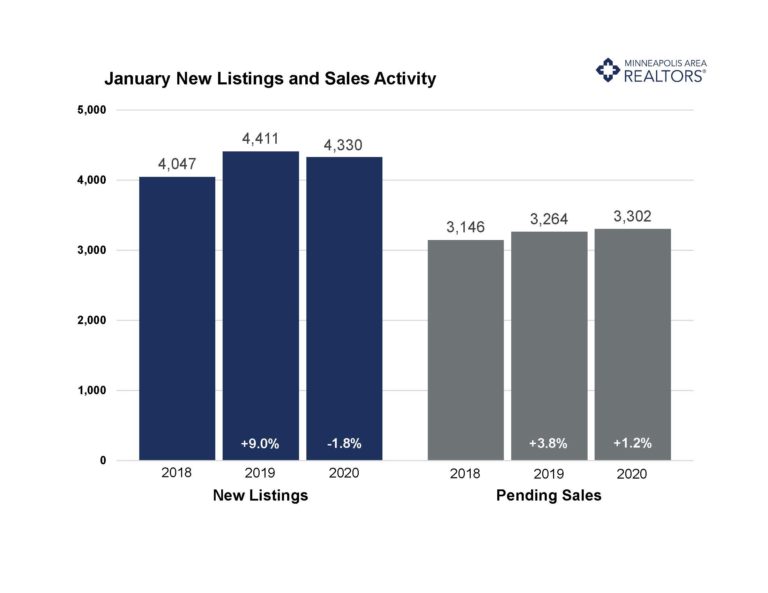 "The year is off to a solid start and metro area communities each have a unique story to tell when it comes to housing availability and price," said Patrick Ruble, President of St. Paul Area Association of REALTORS®.
Some of the most competitive markets experiencing strong price growth are those with relatively higher levels of affordable or entry-level homes, such as Fridley, Vadnais Heights, Richfield, Brooklyn Center and Bloomington. That's where multiple offers and homes selling for over list price are more common. Both millennial first-time buyers and downsizing empty nesters are competing over this limited supply of affordable homes close to the core cities. The move-up and upper-bracket home price segments are more balanced and better supplied.
January 2020 by the numbers (compared to a year ago)
Sellers listed 4,330 properties on the market, a 1.8 percent decrease from last January
Buyers closed on 2,870 homes, a 5.4 percent increase
Inventory levels declined 14.9 percent to 7,595 units
Months Supply of Inventory was down 16.7 percent to 5 months (5-6 months is balanced)
The Median Sales Price rose 4.2 percent to $270,000
Cumulative Days on Market increased 1.5 percent to 66 days, on average (median of 43)
Changes in Sales activity varied by market segment

Single family sales rose 5.5 percent; condo sales fell 3.5 percent; townhome sales rose 11.7 percent
Traditional sales increased 7.1 percent; foreclosure sales dropped 26.0 percent; short sales fell 52.6 percent
Previously owned sales were up 5.5 percent; new construction sales climbed 11.1 percent