February 6, 2020
The Twin Cities housing market continued to show steady growth in 2019 according to the annual market wrap-up from the Minneapolis Area REALTORS® and the St. Paul Area Association of REALTORS®. At a joint news conference in St. Paul, the associations announced a growing economy, favorable rates and a persistent scarcity of homes for sale have uplifted home prices for eight consecutive years. Lower mortgage rates helped offset declining affordability brought on by rising home prices.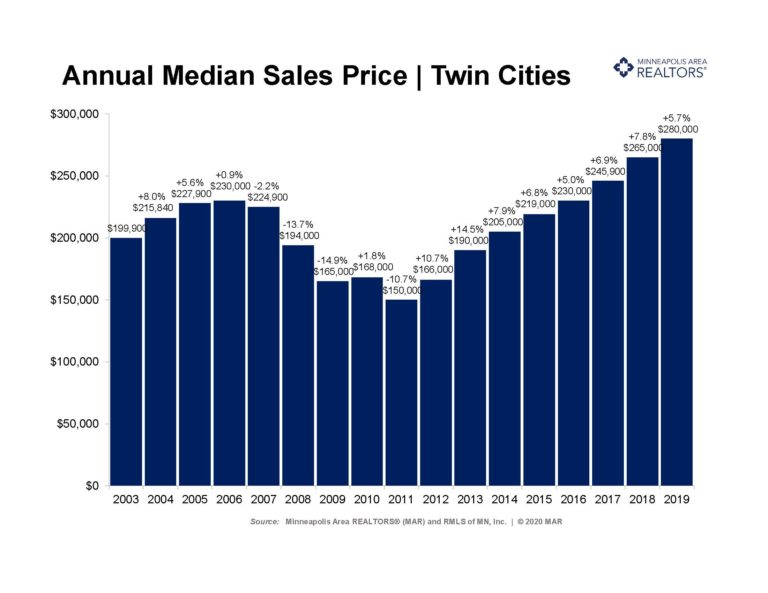 "In our market, like others across the country, lack of housing inventory has been a recurring theme for buyers. It continued in 2019 as buyers, looking for entry level options and more affordable choices, felt the most pressure. Buyers, however, have remained persistent resulting in gains, both in sales volume and price appreciation," said Patrick Ruble, President of the Saint Paul Area Association of REALTORS®. "Fortunately, the region's economy continues to grow, unemployment remains low and we are seeing growth in wages. We have a healthy market and look forward to some of the sticking points, such as the limited inventory, easing in the coming year."
Sellers reversed three years of declines with a modest 0.2 percent increase in new listings in 2019. Buyers overturned a sales decline in 2018 with a 0.8 percent increase in purchases. The ongoing housing shortage has led to a competitive environment where multiple offers are commonplace, frustrating some consumers. Therefore, sellers are receiving strong offers in near record time. Market times did, however, increase 2.1 percent from 2018 while the ratio of sold to list price declined 0.1 percent. These two metrics could be early indicators of a shifting balance.
"Overall 2019 was a good year for real estate. After a slow start, activity picked up once rates fell back below 4.0 percent mid-year," said Linda Rogers, President of the Minneapolis Area REALTORS®. "The second half of the year saw consistent sales gains, as record prices and declining affordability were offset by favorable rates and wage growth. Buyers were persistent despite tight inventory—particularly under $300,000. That's no surprise, as the Twin Cities are a wonderful place to live, work and play."
Rates remained attractive during the year. Despite starting the year around 4.5 percent, mortgage rates fell to 3.7 by year-end. Single family and new construction sales led the pack; so it's no surprise that four-bedroom homes and homes over 2,500 square feet saw the largest gains. There's still a "tale of two markets" dynamic at play: the under $350,000 or first-time buyer segment is severely undersupplied but also in high demand. The move-up market for homes over $500,000 is much better supplied, giving buyers more options and negotiating room.
"The Twin Cities housing market is a reflection of what's been happening statewide," said Bob Clark, President of the Minnesota Association of REALTORS®. "Realtors across Minnesota finished the year with slight increases in closings, new listings and continued growth in home prices."
2019 by the Numbers
Sellers listed 76,345 properties on the market, a 0.2 percent increase from 2018
Buyers closed on 59,843 homes, a 0.8 percent increase from 2018
Inventory levels for December fell 19.6 percent compared to 2018 to 7,431 units
Months Supply of Inventory was down 21.2 percent o 1.5 months
The Median Sales Price rose 5.7 percent to $280,000, a record high
Cumulative Days on Market increased 2.1 percent to 49 days, on average (median of 23)
Changes in sales activity varied by market segment
Single-family sales increased 1.5 percent; condo sales fell 1.7 percent; townhome sales were down 1.4 percent
Traditional sales rose 1.8 percent; foreclosure sales decreased 31.9 percent; short sales fell 35.2 percent
Previously-owned sales increased 0.3 percent; new construction sales rose 6.9 percent
For other year-end residential real estate information and for stand-alone December 2019 data, visit www.mplsrealtor.com.