New listings and sales up, price growth strong, but supply levels wearing thin
(October 19, 2020) – According to new data from the Minneapolis Area REALTORS® and the Saint Paul Area Association of REALTORS®, buyer and seller activity in the 16-county Twin Cities metro both increased from 2019.
This summer and even early fall market continue to resemble more of a spring market. Although some activity from the 2nd quarter was shifted into the 3rd quarter, buyers more than made up for the lost time and continued to ink new records. Sales activity year-to-date is already above last year. Seller activity—while still lagging—made its largest gain since March.
Specifically, pending sales rose 27.7 percent compared to last September to 6,443, marking at least an 18-year record high for the month going back to 2003. At 7,771, new listings were up 9.8 percent, which was the highest September since 2008.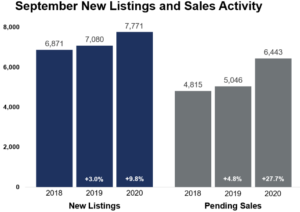 "The demand out there in the market at this time of year is truly remarkable—especially during a pandemic," according to Linda Rogers, President of Minneapolis Area REALTORS®. "Even though seller activity is on the rise, inventory levels remain extremely low, particularly in the affordable ranges. Serious buyers should be prepared to write strong offers quickly."
While nothing about 2020 could be called predictable, one predictable outcome of historically strong housing demand and tight supply is rising prices. The metro-wide median sales price rose 10.8 percent to $310,000, the largest year-over-year gain since February 2018. The median sales price for new homes, however, rose 2.7 percent to $417,000 while existing home prices rose 11.1 percent to $300,000.
Multiple offer situations remain common as a large pool of buyers compete over a thinning stock of properties. Sellers, on average, accepted offers of 100.5 percent of their original list price—marking a new high for any month going back to at least 2003. A balanced market typically has 5-6 months of supply. At 1.7 months, sellers are still in the driver's seat in most areas.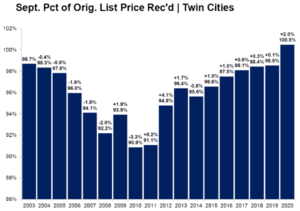 With such an imbalance in market forces, properties sold 31.8 percent faster than last year. Half the sales occurred in less than 15 days, tying with August for a 14-year record pace. "Even though activity is strong overall," said Patrick Ruble, President of the Saint Paul Area Association of REALTORS®. "Every city, neighborhood, price range and property type are unique."
For example, sales rose 41.4 percent in Minneapolis and 33.8 percent in St. Paul while new listings were up 47.8 and 17.7 percent, respectively. Seller activity in Minneapolis reached its highest level since 2007, while seller activity in the metro overall reached its highest level since 2008. The region's condo market, however, saw new listings rise 28.9 percent while sales fell 2.6 percent. The metro condo market has 4.0 months of supply while that figure is 6.0 months in Minneapolis. Perhaps driven by attractive jumbo rates, sales of homes priced over $1M are up over 60.0 percent from last September.
September 2020 by the numbers compared to a year ago
Sellers listed 7,771 properties on the market, a 9.8 percent increase from last September
Buyers signed 6,443 purchase agreements, up 27.7 percent (6,583 closed sales, up 21.1 percent)
Inventory levels fell 32.0 percent to 8,936 units
Months Supply of Inventory was down 37.0 percent to7 months (5-6 months is balanced)
The Median Sales Price rose 10.8 percent to $310,000
Cumulative Days on Market decreased 15.9 percent to 37 days, on average (median of 15, down 31.8 percent)
Changes in Sales activity varied by market segment

Single family sales were up 34.0 percent; condo sales fell 2.6 percent; townhome sales increased 16.5 percent
Traditional sales rose 29.6 percent; foreclosure sales were down 47.1 percent; short sales were flat
Previously owned sales were up 26.7 percent; new construction sales climbed 53.1 percent